fruitcratelabels.com
CANADIAN LABELS, (EH?)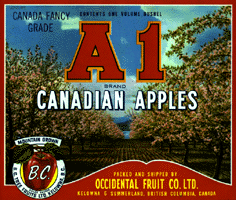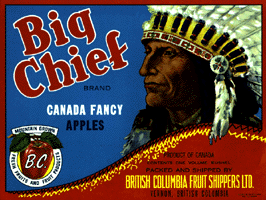 ---
BRITISH COLUMBIA & NOVA SCOTIA
Although British Columbia is a major fruit growing region, like Washington state, it's commercial history only goes back about 80 years. As early as 1908, fruit growers realized that some form of centralized marketing had to be developed. Several attempts were made to organize growers through voluntary cooperation. But, most of these schemes failed. In the mid-1920s, growers realized the rapidly growing volume of their products, and its perishable nature began seeking legislation to control and market their produce in an orderly fashion. In the late 1930s, a marketing act was finally pounded out, and has remained in place ever since. In 1939, B.C. Tree Fruits Limited came into being as the sole marketing agency for the fresh fruit crop of the interior area of B.C.
Most B.C. labels feature themes indigenous to the surrounding area. Caribou, bears, deer, indians, birds, orcharding, and the like were commonly used images to identify B.C. packs. This idea is seen in the accompanying illustrations.
NOVA SCOTIA: The commercial apple industry of Nova Scotia was mostly in the Annapolis-Cornwallis Valley, which is roughly 2 to 10 miles wide and 80 miles long, and production has been mostly centered around Kentville. The industry peaked in 1911 (with some 2,500,000 apple trees). Commercial apple production was developed to serve small markets in England, particularly London. Labels for most early containers are round, because the early containers were barrels. Later, some packers went to wooden crates, and ultimately to cardboard. Labels are very scarce from the region, but, some can still be located.
---
Here is the way this list is laid out:
Brand Name / apple or pear / color / description / retail
A1 ap blue blue title; photo of orchard 8.00
A1 ap red blue title; photo of orchard 8.00
B.C . p blu red title on grn leaf in sky; mtn,orch's 8.00
B.C. p blu red title on grn leaf in sky; mtn,orch's 8.00
Big Chief ap red/blu/grn indian in headdress pkr's name in box 50.00
Big Chief ap blu/red indian in headdress 18.00
Big Chief ap red/blu indian in headdress 15.00
Black Bear ap blu bear climbing tree for apples; orchard 25.00
Blue Grouse ap green orchard,lake,mtn, w/ two grouse on rock 20.00
Buffalo ap blue buffalo charging from inset; red/ylo apple 25.00
Buy british brand ap blu/red red title, 2 flags on blue 15.00
Buy british brand ap blu/red red title, 2 flags on blue, empire logo 18.00
Buy me ap blu photo of 3 apples, 12 leaves 7.00
Canadian apples ap grn/red/ylo 2 red/1 ylo apples in blue panel; grn labe 8.00
Cariboo p blu/red diag. title on lt. blu; logo ulhc; red bot 20.00
Castle ap blu/red huge castle w/ flag; lake, sailboat,people 15.00
Economy ap blk/blu/ylo yellow slanted title on red line 7.00
Evangeline ap voli/red statue of woman, outside church 25.00
Evangeline ap red/wht/grn staute, church, trees; red title/border 20.00
Hi-point ap green ylo title on grn label; inset of cariboo 20.00
Highland ap blk/blu diagonal ylo title on red line 6.00
JUNIOR B.C . p red/blu red title;orchards, house,mountains 5.00
OK ap blue OK title on center of label 7.00
OK ap red OK title on center of label 5.00
OK p blu OK title on center of label "Canada" ovrpr 12.00
OK p red OK title on center of label 5.00
OK "Crab apples" p blue OK title on center of label 5.00
OK Junior, p blue OK junior title; limb w/ 5 pears 5.00
OK Junior "Crab Apples" ap blue OK junior title; limb w/ 5 apples 5.00
Okanagan Valley ap yellow big red apple, 3 leaves on right 15.00
Okanagan Valley ap blue big red apple, 3 leaves on right 5.00
Okanagan Valle y p yellow big yellow pear, 3 leaves on right 20.00
Old gold p gold/blue ship, moon on ocean; treasure chest 28.00
OP ap orange OP center; 1 apples on left; seal rt. side 20.00
Orchard ap blu red title above hills, orchards, home 12.00
Penoka ap blk title over apple w/ crown; orchards. Nice! 18.00
Pyramid ap orange 3 pyramids, man on camel, oasis 50.00
Royal Crest ap blu/blk slant-down title on triangle; crown 6.00
SCE ap blu grn title on blue; red aps in corners 5.00
SCE ap blu red title on blue; red aps in corners 5.00
Scotian gold ap red/blk lion coat of arms; 2 red apples 5.00
Sunbrite ap blue slant title ; sunrise over mtns 8.00
Zenith ap ylo/blk wht.blu title on ylo label abve 1.5 aps 5.00
Zenith ap blu/blk wht.blu title on ylo label abve 1.5 aps 5.00
Zenith p red/blu red title, wht words on blue 5.00

---
(Page last updated: 4/6/99)