Welcome to the former,
CALIFORNIA FRESH FRUIT
LABEL EXCHANGE
"An information service for collectors, devoted to
the historical preservation of global crate label art,
agricultural advertising and lithographic history.
Inquiries gladly received, questions happily answered"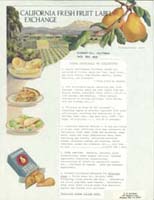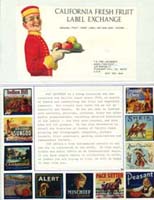 ANTECEDENTS: (1985-1998)
Started in 1985, the CALIFORNIA FRESH FRUIT LABEL EXCHANGE has essentially remained a free information service for collectors, historians, collecting enthusiasts, researchers and students. Our (my) mission, has always been to freely exchange and provide information about any facet of label history, label collecting and current label values, and to share all that I have learned from my many years of collecting and research. This also includes information on the history of agriculture and lithographics along the Pacific Coast. Over the years, many people have kindly assisted me, so, I have always felt it was only fair to reciprocate in kind. This included a modest newsletter I published in the 1980s. But, now, an evolution is taking place!
Starting January 1, 1999, the C.F.F.L.X. will become a division of
fruitcratelabels.com and be known by it's new name:

"The Pacific Label News"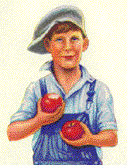 Once I begin publishing it, the Pacific Label News will be an International newsletter for label collectors and cover topics about collecting, clubs, regional activities, and trends in the label hobby, and will include articles on many types of ephemeral labels, including cigar labels, seed packets and so on. I will still freely answer questions in the future, but, the newsletter will become the newest venue for collector information, and the C.F.F.L.X. name quietly retire.
To read more about the newsletter, <click here> for more information.
To get your name on the mailing list, <click here>. Thanks!
(page update 9/06)