fruitcratelabels.com
WELCOME TO OUR ECCENTRICITIES DEPT.
WANTED: OLD FISHING LURES AND BAMBOO
(SPLIT-CANE) FLY RODS
AND FLY FISHING REELS AND FLYS
Private collector, avid fisherman, not dealer. Photos requested with prices and condition. Please call before shipping anything, so we may discuss it. Do not clean, repair or improve items prior to offer, Thanks!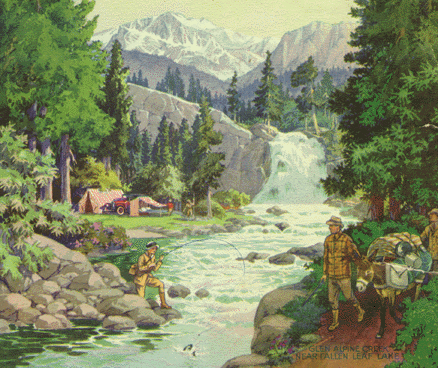 WANTED: Split-cane / bamboo fly rods and reels. especially "signed" rods, generally pre-1960, multi-piece rods in cases or fabric sleeves, reasonable to good consition. (No Japanese models, please). Fresh water tackle only, not seeking ocean-going items, except brass reels. Early fly reels, flies, tackle boxes, lures, (no lead sinkers). Pfleugar reels. Trout / bass tackle preferred.
WANTED: Pre-1960 fishing lures and tackle. I keep an eye out for old bamboo split-cane fishing rods and old tired tackle boxes, especially for fly fishing. I have fished since I was a kid, and love to find old jumbled tackle boxes at garage sales. Nice fly rods are more natural to fishing. I'm not a serious collector. If the price is right, I'll be interested in just about anything. Pflueger all metal reels sought, too. Thanks.
THERE ARE A VERY FEW FRUIT CRATE AND CIGAR LABELS WITH FLY FISHING THEMES. Some of these are available for sale. There are also many canned food labels which feature fish and fishing, ships and boats. Let us know what you're looking for! I'll trade a few fishing labels for your fishing gear.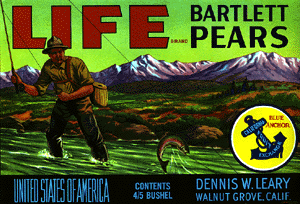 (Page last updated: 9/06)