fruitcratelabels.com
Labels on Public Television

---




"CALIFORNIA HEARTLAND" Series -- Show #313 --
Airing: Sunday December 27, at 6:30
And, Tuesday December 29, at 7:30




A production of KVIE Public Television Channel 6, Sacramento, California. A half-hour special documentary presentation, filmed by producer/filmaker Kit Tyler, and written by screenwriter Miles Saunders, both Emmy Award winning documentarians, and illustrated by label-historian Pat Jacobsen, the show "...is a tribute to this art-form unique to agriculture -- fruit crate labels. You'll be astounded by their beauty, history and continued role in making California an agricultural powerhouse." This presentation fearures hundreds of beautiful images, stunning photography, and interviews with several of California's leading historians.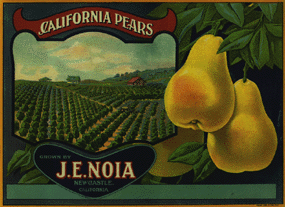 Pacific Fruit Express: Advertising, Agriculture Art
"In forgotten packing houses and produce sheds throughout California, only a few still survive -- messengers, once born on crates of wood, filled with fruit and the abundance of California. Once thought of as disposable art, Fruit Crate Labels profoundly shaped America and the world's perception, of a near mythic place of plenty called California. Today they stand out as priceless and colorful icons of our past. In this special Heartland, Documentary Producers Kit Tyler and Miles Saunders (Art of the Gold Rush) weave art, music and social history into a stunning tribute to an agricultural art form born right here in the Golden State."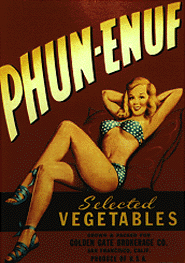 For more information contact http://www.kvie.org

"California Heartland"
KVIE, Inc., Channel 6
2595 Capitol Oaks Drive / PO Box 6
Sacramento, CA 95833-2926
Member Hotline - 916.923.6699
Heartand Office - 916.929.5843 - ext. 6301

For affiliated stations in California, <click here>
---
CALIFORNIA HEARTLAND PROMOTIONAL
1999 CALENDAR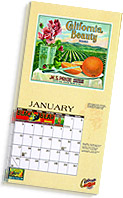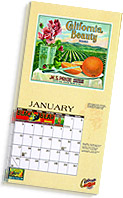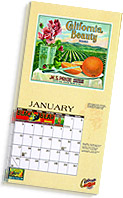 AVAILABLE NOW in Limited Supply!
Only available through this link. Act Fast!
This beautiful 12" x 12" calendar will be a collectors item! Inside are nearly 50 vibrant color images of original fruit crate labels from the early 1900s, twelve of which are suitable for framing. Each month lists dates and locations of county fairs, agri-festivals, rodeos, and wine tasting events throughout California.
The price is $12.95 plus $3.00 s/h. (CA residents add 8% sales tax) While they last!
To Order, send a check or money order to KVIE, TV at the address above.
You may also purchase them from the California Heartland web site at: http://www.kvie.org