fruitcratelabels.com
WANTED !!!
San Francisco & West Coast
LITHOGRAPHIC COMPANY
ARTIFACTS

---
Historian seeks any information or items printed by S.F. lithographers listed below. Pat Jacobsen, is a California historian and author trying to preserve the city's colorful printing history. If you or someone you know worked in the litho industry in any capacity, you must have stories, photographs, labels, calendars, letterheads, or advertisements produced by these printers. Especially case-end labels and other items related to Pacific Agricultural Advertising,(i.e., Sunkist, Calif. Fruit Exchange, Blue Goose, etc).
SPECIALIZING IN: SCHMIDT LITHOGRAPH COMPANY
SAN FRANCISCO, CA., AND ALL S.F. PRINTERS!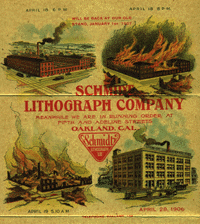 For over twenty years, Pat Jacobsen has been documenting the histories of all of San Francisco's major lithograph houses, as well as firms from Spokane, Seattle, Portland, Medford, Los Angeles and elsewhere, seeking whatever artifacts he could find which had been produced by any of the following printers:
A. CARLISLE AND COMPANY
CARLISLE / DIVISION OF LITTON INDY.
CARTON LABEL CORP.
ACME LITHOGRAPH
CAL.FRUIT CANNERS ASSOC.-Print. Div.
CROCKER-UNION LITHO
H.S. CROCKER CO.
DIAMOND NATIONAL / SEQUOIA PACIFIC
DICKMAN-JONES
FREYGANG-LEARY
GALLOWAY LITHOGRAPHING CO.
HALPIN LITHOGRAPH CO.
INDEPENDENT LITHO.
LEHMANN PRINTING AND LITHOGRAPH
L.A. MILLER LABEL CO.
MacINTOSH LITHO CO.
MERCHANTS LITHO CO.
MUIRSON LABEL AND LITHO
MUTUAL LABEL AND LITHO
O.E. OLSEN LITHO
OLSEN BROTHERS LITHO
PINGREE-BRENGEL / PINGREE-TRAUNG
LOUIS ROESCH CO.
M. SCHMIDT AND CO.
SCHMIDT AND BUEHLER
SCHMIDT LABEL AND LITHOGRAPH
SCHMIDT LITHOGRAPH CO.
STECHER-TRAUNG LITHOGRAPH CORP'N.
SCHWABACHER-FREY (LITHO DIVISION)
STECHER-TRAUNG-SCHMIDT
S.T.S. / International Paper
SIMPSON-DOELLER (S.F. OFFICES)
TRAUNG LABEL AND LITHO
UNION LITHOGRAPH CO.
WESTERN PRESS
WESTERN LITHO. CO. (L.A.)
REDWOOD LITHO.
ROSOTTI PRINTING AND LITHO
For years, Pat Jacobsen has been travelling throughout Washington, Oregon, California, and elsewhere, interviewing farmers, fruit growers and commercial produce shippers, as well as pursuing former artists and employees of litho houses. His purpose is that of conducting historical interviews and collecting fruit and vegetable crate labels, point-of-sale displays, original illustrations, press sheets, sample files, black and white photos, salmon can labels, folding cartons, glass negatives, stones, die-cuts, posters, salesman's samples, stock labels, ...anything related to S.F. printers and western agriculture. He has put what he has learned into exhibits, articles, books, lectures and other public presentations, including detailed histories of the labels -- how they were created and what they did for growers. He has also been documenting the growth, development and changes in the San Francisco lithographics companies, and their historic role in the development of Pacific agriculture.
Since the early 1870s, there have been over thirty-five lithograph houses who hired collectively thousands of employees over a hundred year period. Today, there is only one original player left, Louis Roesch. There is not much left of this once thriving industry, except what ex-employees have managed to preserve. Even items such as old litho industry and Modern Packaging magazines, litho union newsletters, Pacific Bottler mag., Blue Anchor magazines are sought.
If you have any information, labels or other items, PLEASE contact
Pat Jacobsen
P.O. Box 791
Weimar, CA 95736

Or call (530) 637-5923 (weekday evenings, California time, please.)
Or, click here to email Pat. Thank you!!!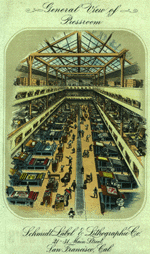 (Page last updated: 1/1/99)