fruitcratelabels.com
DIGITAL TRADING COMPANY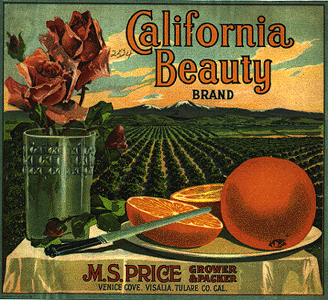 Due to the sheer number of images in our ImageBank, licensing oppertunities are now available to companies manufacturing and/or publishing nostalgic images on new products. To view a copy of our licensing contract, please click here. See also the Pat's Packin' House link for licensed products.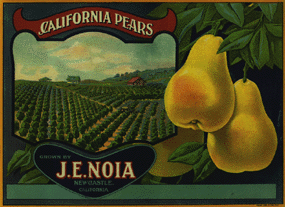 THESE ARE JUST TWO INTERESTING EXAMPLES OF AVAILABLE IMAGES!
There are many thousands to choose from, hundreds of topics, ages, print styles!
For more information about licensing, please contact us at: <this link>
Keep an eye on this page for forthcoming developments!
There are, of course, many facets of licensing. We want you to know up front, that there are many images out there already being used on products other than fruit crates. There are also lots of companies, like Sunkist, for example, who still have active patents and trademarks on their labels. We have no intention of stepping on their interests, by using, or offering, one of their labels for reproduction. All licensing requires a Licensing Agreement. fruitcratelabels.com owns a large number of available labels, and even the rights to quite a few. Let us know what ideas you have, and we'll see if we can put our heads together and make it work. -- Pat
A NOTE REGARDING "EVA" BRAND APPLES AND PEARS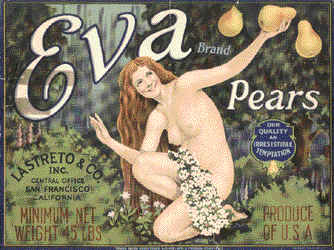 Many websites and companies have attempted to use the Eva Brand on t-shirts, mouse pads, coffee-cups, postcards and other media. For the record, I have been using this image, for both apples and pears on several products since the early 1980s. I have, therefore, several publication rights and forms of prior use in the gift products marketplace. I also have written documentation granting all rights to the Eva Brand and Lastreto name, granted by the Lastreto family exclusively to me, for use in perpetuity. This brand is not available for licensing, nor either of the images. Attempts to utilize the Eva brand(s) on items, or in reproduction form are not acceptible. Thank you!
LICENSE AGREEMENT CONTRACT: This is a basic licensing agreement for image use and indemnification. We understand that each occassion and agreement is unique, and the terms of this contract may be negotiable to each product, language, term, etc. For a down-loadable sample of the contract, or just to review it's content, please click here.
(Page last updated: 9/02)